City on a Hilltop: American Jews and the Israeli Settler Movement
Thursday, June 24 @ 12:30 pm

-

1:30 pm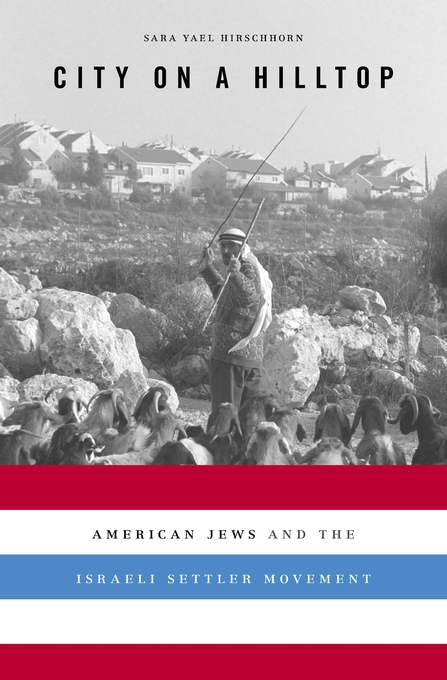 Since 1967, more than 60,000 Jewish-Americans have settled in the territories captured by the State of Israel during the Six-Day War. Comprising 15 percent of the settler population today, these immigrants have established major communities, transformed domestic politics and international relations, and committed shocking acts of terrorism. They demand attention in both Israel and the United States, but little is known about who they are and why they chose to leave America to live at the center of the Israeli-Palestinian conflict.
In this deeply researched, engaging work, Sara Yael Hirschhorn unsettles stereotypes, showing that the 1960s generation who moved to the occupied territories were not messianic zealots or right-wing extremists but idealists engaged in liberal causes. They did not abandon their progressive heritage when they crossed the Green Line. Rather, they saw a historic opportunity to create new communities to serve as a beacon―a "city on a hilltop"―to Jews across the globe. This pioneering vision was realized in their ventures at Yamit in the Sinai and Efrat and Tekoa in the West Bank. Later, the movement mobilized the rhetoric of civil rights to rebrand itself, especially in the wake of the 1994 Hebron massacre perpetrated by Baruch Goldstein, one of their own.
Hirschhorn will illuminate the changing face of the settlements and the clash between liberal values and political realities at the heart of the Israeli-Palestinian conflict.

Dr. Sara Yael Hirschhorn is currently the Visiting Assistant Professor in Israel Studies at the Crown Family Center for Jewish and Israel Studies at Northwestern University. Her expertise focuses on Diaspora-Israel relations, the Arab-Israeli conflict, and Israeli ultra-nationalist movement. Her first book, City on a Hilltop: American Jews and the Israeli Settler Movement (Harvard, 2017), hailed as a landmark contribution to the field, was the winner of the 2018 Sami Rohr Prize in Jewish Literature Choice Award, a finalist for the 2017 National Jewish Book Award, and a nominee for the 2021 Grawemeyer Award in Religion.  She is currently working on a new book manuscript tentatively entitled New Day in Babylon and Jerusalem:  Zionism, Jewish Power, and Identity Politics Since 1967 on American Zionism since the Six Day War. Dr. Hirschhorn teaches courses and mentors both undergraduate and graduate students in Israel Studies and related fields. Prior to her appointment at Northwestern, Dr. Hirschhorn was the University Research Lecturer and Sidney Brichto Fellow in Israel Studies at the University of Oxford (2013-2018) and a postdoctoral fellow in Israel Studies at Brandeis University (2012-2013).  She is a graduate of Yale University (B.A.) and the University of Chicago (M.A., Ph.D) and the recipient of numerous grants and fellowships.  Apart from her academic work, Dr. Hirschhorn is also a prominent voice bringing scholarship into the public square as a frequent public speaker, writer, media commentator, and foreign policy consultant on Israel/Jewish Affairs.  Follow her work at sarahirschhorn1@twitter.
There is no fee, but please RSVP for planning purposes. This event is held virtually on Zoom. After registering, you will receive a confirmation email containing information about joining the event. For more information, contact Program Director Ilene Tatro at itatro@cbisd.org.
CSP Partners: Beth Israel (San Diego, CA), Congregation Beth Shalom (Seattle, WA), Congregation B'nai Tzedek (Fountain Valley, CA), Congregation B'nai Israel (Tustin, CA), Jewish Collaborative of Orange County, CA, Temple Bat Yahm (Newport Beach, CA), Temple Beth El of South Orange County (Aliso Viejo, CA), Temple Beth Emet (Anaheim, CA), Temple Beth Ohr (La Mirada, CA), Temple Beth Tikvah (Fullerton, CA), Temple Beth Shalom (Needham, MA), Temple Beth Sholom (Santa Ana, CA), Temple Emanuel (Newton, MA), Town & Village Synagogue (NYC, NY), University Synagogue (Irvine, CA), Valley Beth Shalom (Encino, CA) & Walnut Street Synagogue (Chelsea, MA)